My life as a Musician...
JH (left) and Brian Peterson (right) at Sadapag Studio, Braunschweig, Germany.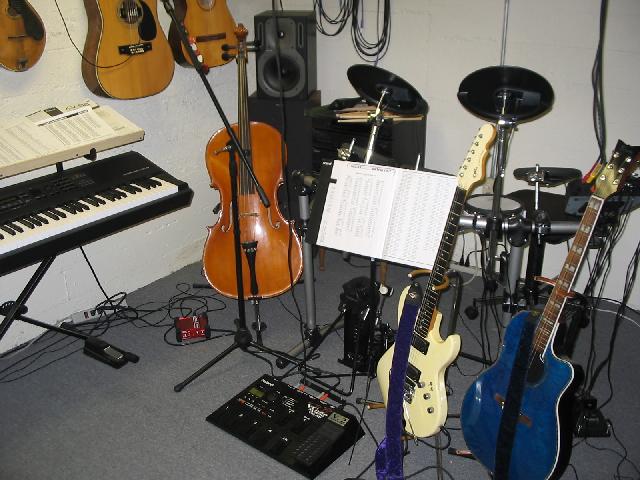 My studio (The Photon Factory) in Stockton, CA
Strings:

G&L 1985 Superhawk Telecaster with Roland GK-3 Midi pickup
Roland VG-88 Midi Guitar/Amp Synth
Schecter ACS Elite Acoutic
Italia Mondail 4-string Bass
Aria III 12 String
Goya G-10 Classical Guitar
Bittner (anno. 1945) Cello (hand carried from Prague!)

Keyboards:

Roland XV-88

with expansion cards:
SR-JV-04 "Vintage Synths"
SR-JV-08 "Keyboards of the 60's and 70's"

Yamaha PRS-75 Keyboard

Drums:

Roland TD-6S V-series midi drum kit (see below)
Yamaha DD55 7 pad midi drum console

Mixer: Behringer UB2442FX Pro 24 Input Mixer with FX
Computer:

2.9 GHz Pentium + 1 G RAM + WinXP
M-Audio Audiophile 2496 Sound card
Cubase SX 2.0
Amplitube 1.0

Monitors: Beringer "Truth" twin set
Roland TD-6S V-series MIDI drum set
Oh YEAH!
VG-88 Midi Guitar/Amp/Synth and Pickup
---
Sound Bytes
Short takes from our CD The Pylvroom Imis Station by Jim Hetrick and Brian Peterson: Solo selection

JDB Project: Dave Qualls, Brett DeBoer, Jim Hetrick

JDJ Project: Jeff Devine, Dave Qualls, Jim Hetrick

The Progmen (Zack Silver, Kelly Foley, and JH)

The Double Down Band (Tony Keesee, Jeff Devine, Tommy Marcelo, Mike Straw, Jhun Pascual, Chris Weilburg, and JH)






---